Moskow Linn wrote the book on vacation houses in Martha's Vineyard. Actually, they've written three about the rarefied retreat off the coast of Cape Cod, with the third volume coming in the near future from Monacelli Press. The Boston-based firm, led by Keith Moskow, FAIA, and Robert Linn, AIA, understands quite a bit about the island's varied villages and myriad of microclimates. Keith has spent a lifetime summering on the island, a stint working for a local builder while in school, and years designing houses there with Robert. Their passion for building sustainably, simply, and smartly is a natural fit for island devotees.
Those who are fortunate enough to have a second home often spend a great deal of time fantasizing about how to make it a primary residence. Something along those lines happened on this project in the scenic town of Chilmark. "Our clients were previously living in Newburyport and Cambridge. They came to us to design a weekend house that would eventually become their primary residence in retirement, but the pandemic hastened their timetable for relocating, and they're there most of the time now," says Keith. "The husband had an attachment to the island, having spent summers there while growing up."
The couple had a tight budget and a lean program. They each needed a separate workspace (one doubles as a guest room), plus a shared living/dining/kitchen and a primary bedroom and bathroom. An extra full bathroom on the first level does double duty as a powder room and guest bath.
With such a simple list, the house easily fit within a straightforward bar plan. Still, a small alcove projects into the garden to embrace the family piano—it's a small move that enlivens the box. "They did not want a huge house," notes Keith. "They wanted it to accommodate only what they really needed, not what they thought they might need." The 3-acre site is adjacent to protected land, so it borrows privacy and prospect. Two stone walls mark a corner of the site, says Keith, and are a defining characteristic on this part of the island. "We oriented the house on the highest point and clear-cut the overgrown vegetation to provide a meadow down to the wetlands."
With 3 acres, there was plenty of room to spread out, but spreading out is not cost-effective on a tight construction budget. Going up is less expensive, of course, but then you hit local building height constraints. Says Robert, ''If you're going to have a second story there, you basically have to tuck it into the roofline. So the second-level office space gains headroom with dormers, and the loft studio has skylights."
The first level takes advantage of the stolen air rights, too, with the main living/dining space soaring to double-height, raftered ceilings. "We have a sliding window system that opens to the view, and then small windows and the glass box for the piano on the back, garden side," Robert explains. The height and the borrowed views make the modestly sized room seem more open and expansive. These are all basic design tricks, so the art is in the execution.
"The challenge," Robert says, "is how do you make something so simple interesting? And the answer boils down to finishes. The clients were adamant about keeping things minimalist but were very involved in the interior finish choices."
Project architect Sarah Carlisle managed the translation of those critical choices into architecture, including the component kitchen cabinetry system fabricated by Henrybuilt and custom cabinets for the bathrooms, bedrooms, and elsewhere. Finishes are, for the most part, kept light and bright—white oak floors, rift-sawn white oak built-ins, and laminated pine beams over the kitchen and in the art studio. Where darker notes were preferred for contrast, white oak was given a darker stain—in the kitchen cabinets and the living room bookcases. Rafters in the cathedral ceiling are painted a creamy neutral for a warm but refined look over the principal living areas, while beams in the kitchen and owners' bedroom are left natural. Splurges of textured tile enliven the bathrooms.
The exterior materials are low-maintenance, hard-wearing cedar shingles and flat board, and locally sourced stone elements from a talented island mason. Given the firm's devotion to sustainability, the house is engineered for solid performance. "The key thing that we've learned makes the biggest difference is a tight envelope," says Keith. "We get it as tight as possible and then make sure we bring in fresh air.
"The husband is a maritime attorney who loves boats," he points out in conclusion. "The house is completely taut and shipshape."
---
Images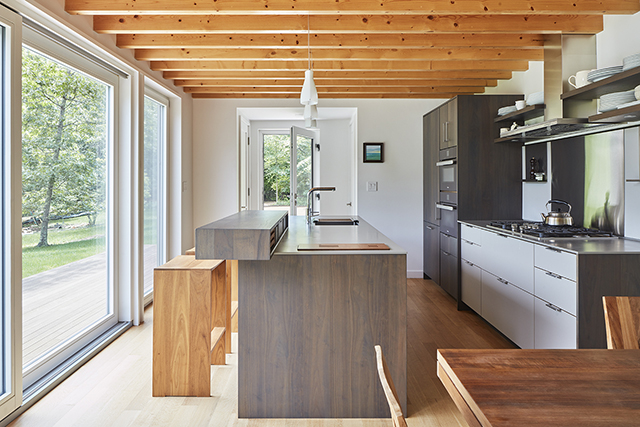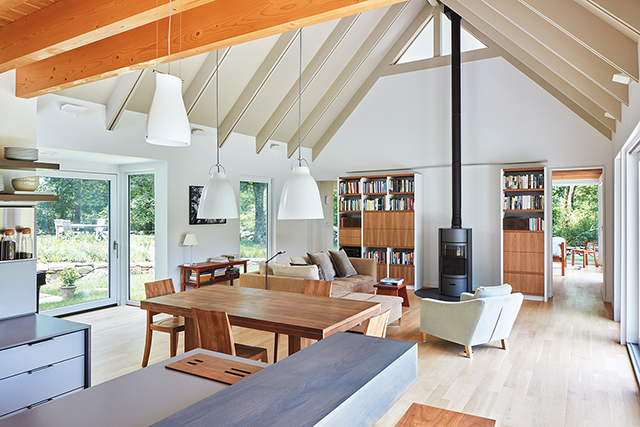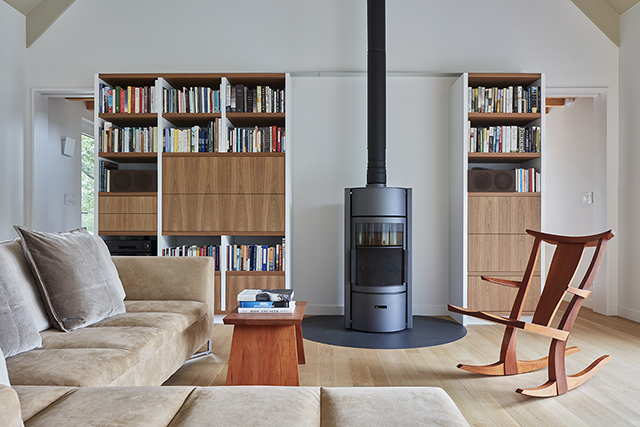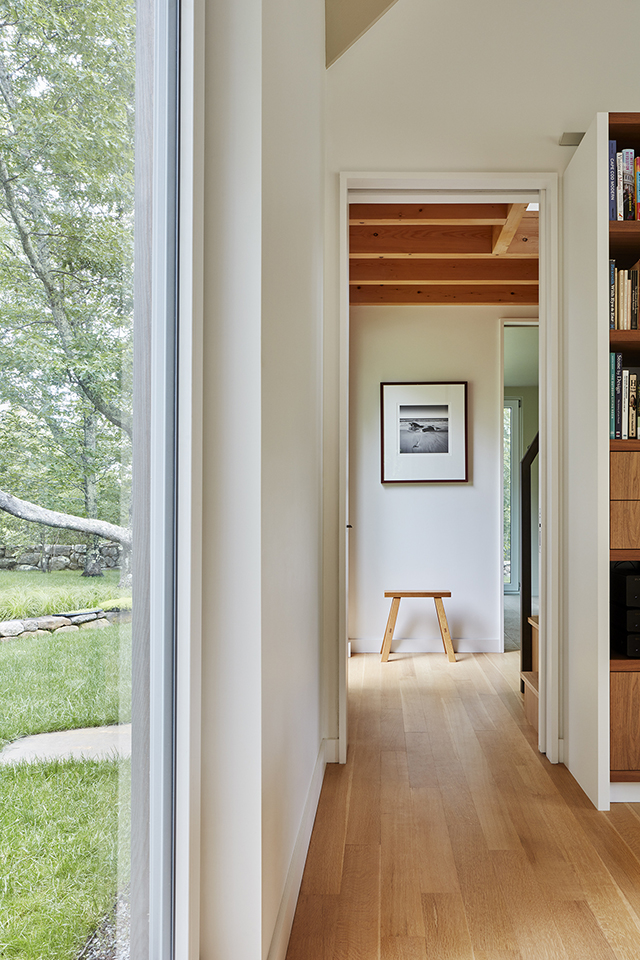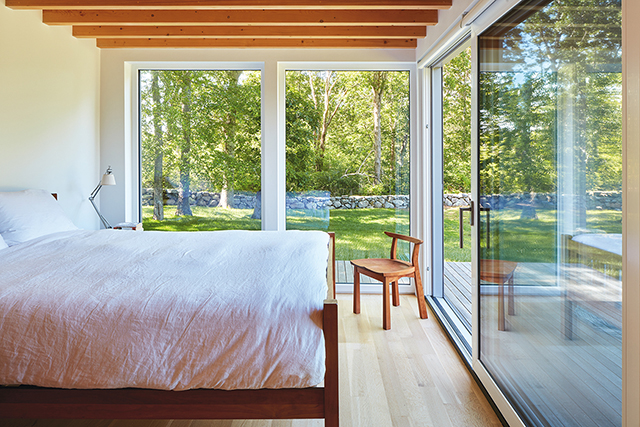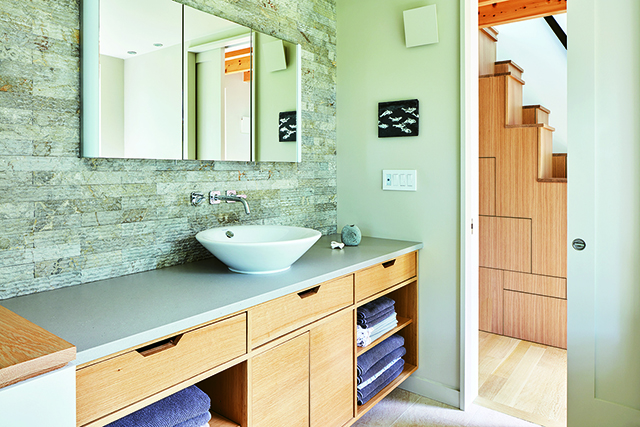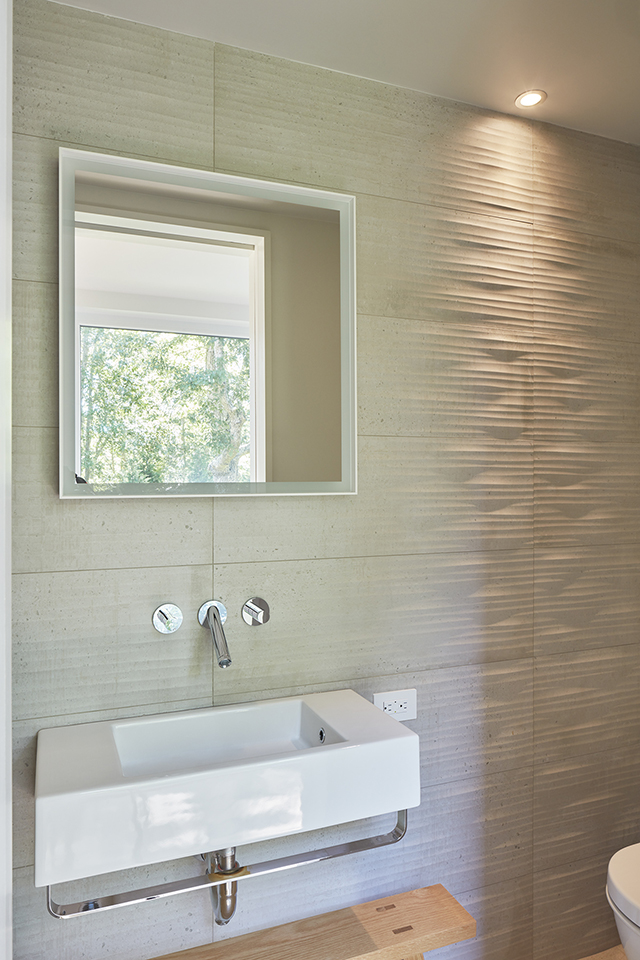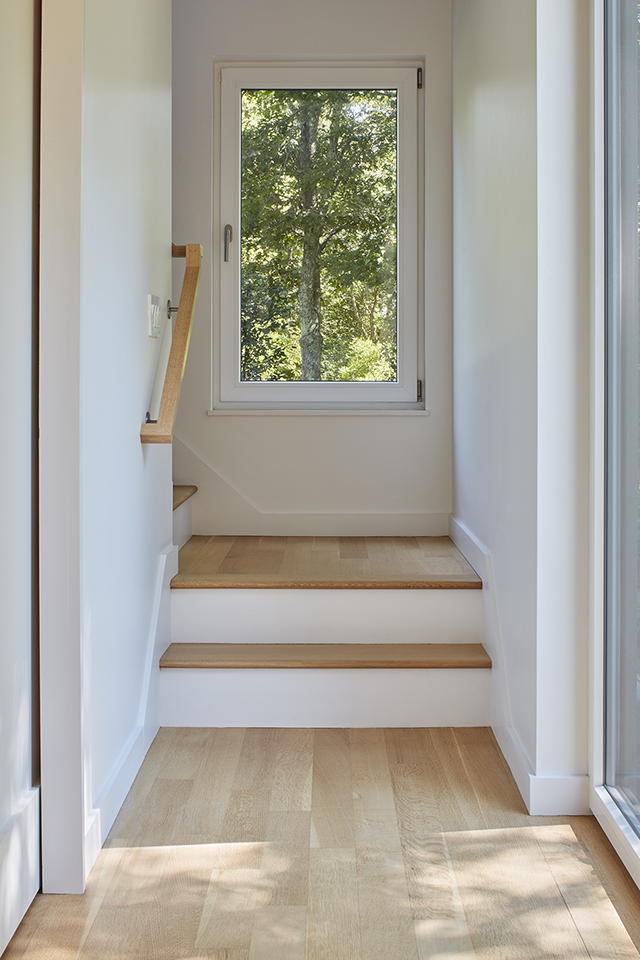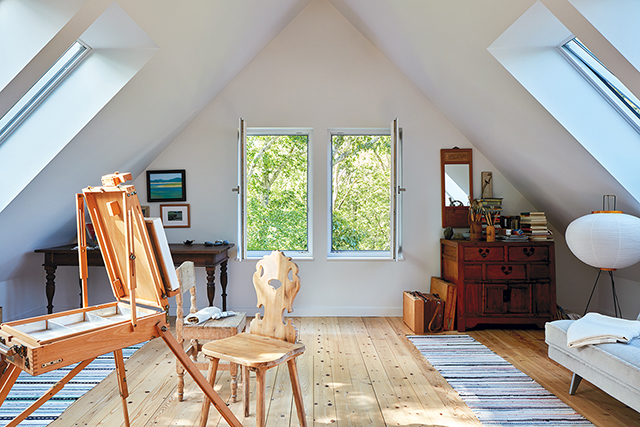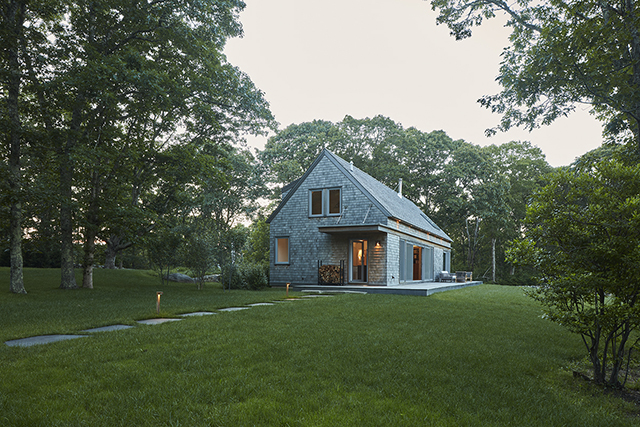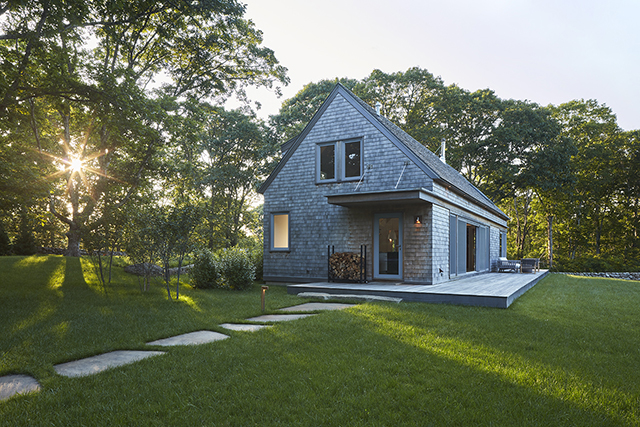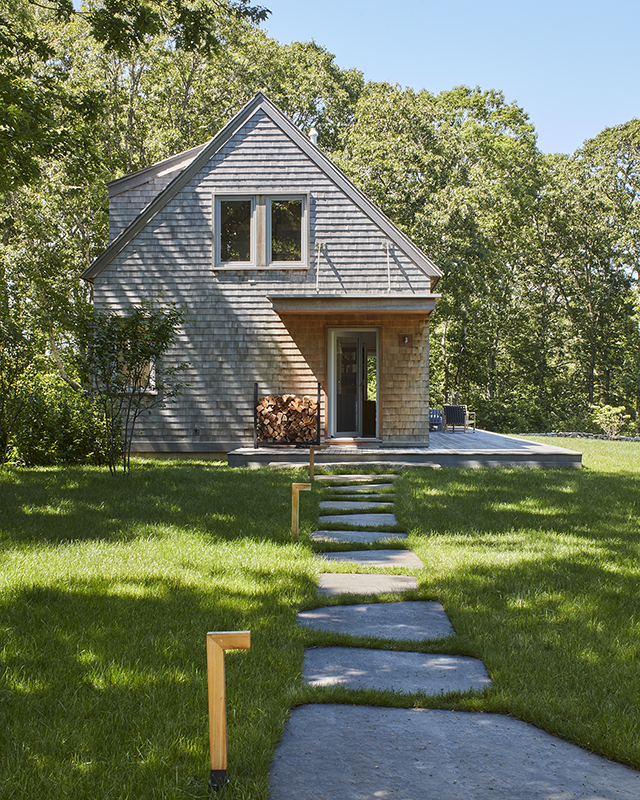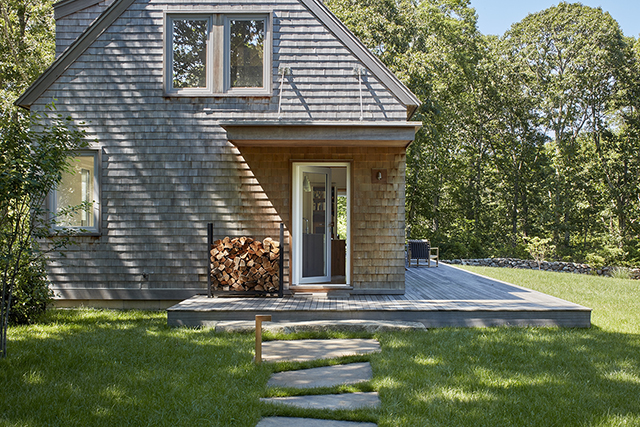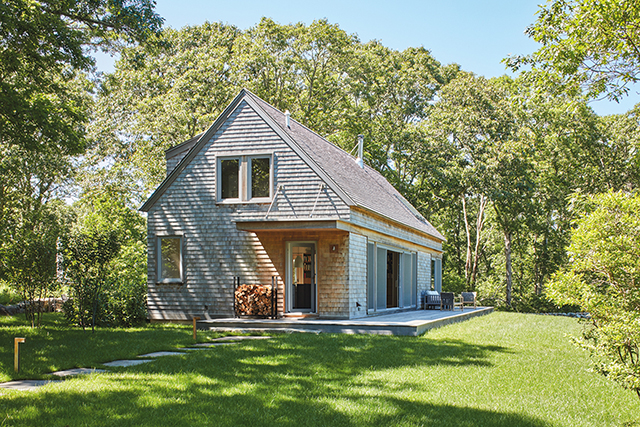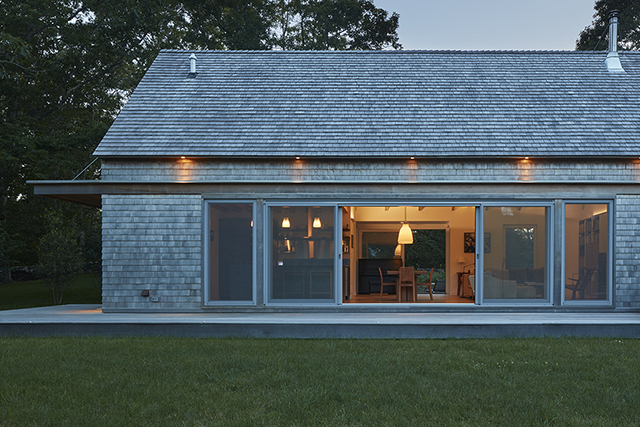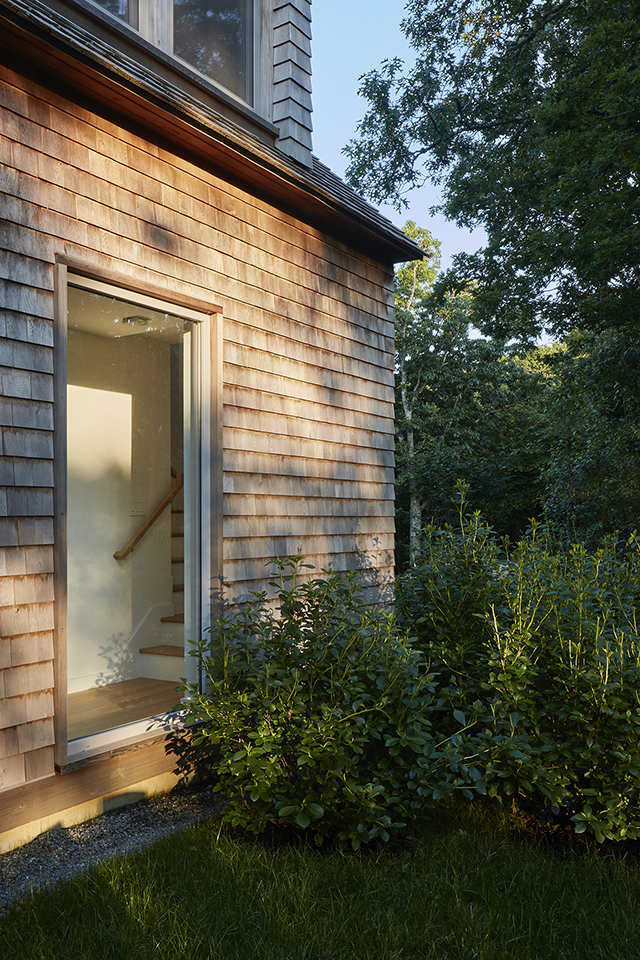 ---
Plans and Drawings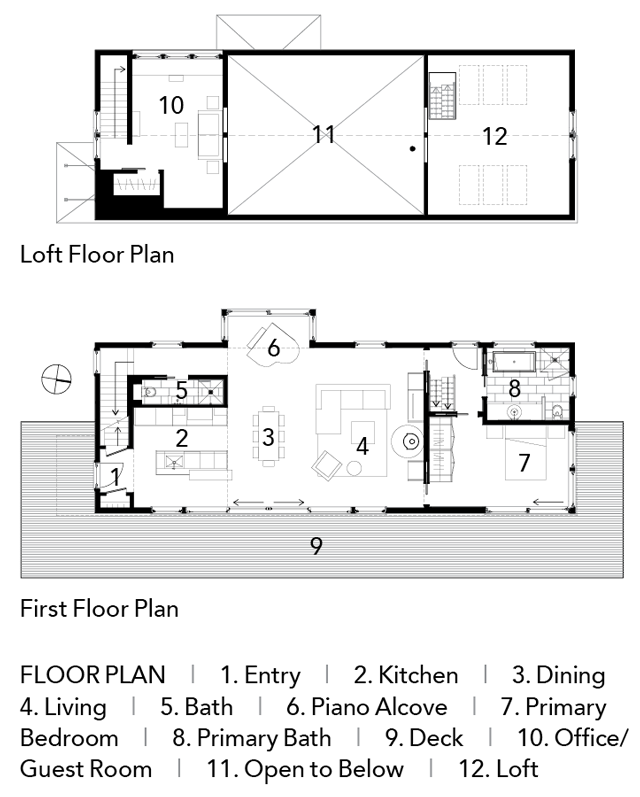 ---
Project Credits
Chilmark House
Chilmark, Massachusetts
ARCHITECT: Robert Linn, AIA; Keith Moskow, FAIA; Sarah Carlisle, Moskow Linn Architects, Boston
PROJECT SIZE: 1,525 square feet
SITE SIZE: 3 acres
COST: Withheld
PHOTOGRAPHY: Jane Messinger Photography
---
Key Products
CLADDING: White cedar shingles
CABINETRY SYSTEM: Henrybuilt (kitchen)
COUNTERTOPS: Light gray solid surface
CUSTOM CABINETRY: White oak
DRYWALL: ½-inch blue board with skim coat plaster
ENTRY DOORS/WINDOWS/WINDOW SYSTEMS: uPVC by Schuco
FAUCETS: Dornbracht (kitchen and primary shower); Hansgrohe (guest bath and shower); Duravit (primary bath)
FIREPLACE: Stuv 30
FLOORING: Quarter-sawn oak with an oil finish
FOUNDATION: 8-inch concrete walls
KITCHEN APPLIANCES: Miele; Futuro Futuro (vent hood)
HUMIDITY CONTROL: Heat recovery ventilator
HVAC: Mini-split system
INSULATION: Blown-in open cell foam
LIGHTING: Davey Lighting Marine Mast Light, SLV Lighting Eyedown LED (exterior); Fabbian, Sonneman Angled Plane, Belfer Wedge, Lightyears Caravaggio, and De Majo Bell
MILLWORK/MOLDING/TRIM: White oak
OTHER STRUCTURAL/WEATHERIZATION/BUILDING PERFORMANCE: 3-inch closed cell foam in roof and open cell below
RADIANT HEATING: Warmboard
RADIATORS: N/Q
ROOFING: Alaskan Yellow Cedar
ROOF TRUSS SYSTEM: 2-by-12s at 16-inches O.C.
ROOF WINDOWS: VELUX deck-mounted skylight
SINKS: Julien (kitchen); Duravit (primary bath); Ceramica Globo, Classic Lavabo
TILE: Atlas Concorde (primary bath, guest bath floors); Island Stone (primary and guest shower walls, primary bath feature wall); Nemo Tile (guest bath feature wall)
TUB: Wetstyle Cube (primary bath)
UNDERLAYMENT/SHEATHING: 1-inch ZIP System R-sheathing
VENTILATION: Panasonic exhaust fan (bathrooms)