The rugged Colorado countryside nestles this home in a craggy embrace. Designed with care and sensitivity by Studio B, the house returns the regard. A modest black box on a concrete plinth, it focuses fully on the natural bounty that surrounds it, while slipping down into the sloped site to escape glimpses of distant neighbors. "Our clients have wonderful mountain views," says architect Mike Piche, "but they are not exposed."
By day, the house blurs into the landscape, reflecting and refracting the scenery with its metal roof and glazing; by night, it reveals its warm, glowing presence as bands of flickering light and shadowy motion within. "Our clients are art consultants who travel all of the time. This house is their main place of work and retreat with their two kids and two dogs," says Mike.
The 42-acre site encompasses trails, a waterfall, and a vast array of flora and fauna. Hikes through its features are restorative for the whole family. When they return to home base, they enter the lower level contained within the concrete plinth. "The concrete is a simple, robust material that picks up on the granite outcroppings onsite," the architect explains. The walls and floors inside are concrete as well—the floors polished to expose the dark gray aggregate.
This level serves as both the casual family space and the main entry for guests. For the family, there's a media room, exercise room, garage, mudroom, and laundry. There's also a guest room tucked into a far corner, sharing a glass wall and patio with the exercise room.
The entry hall doubles as a gallery space with rotating art on display. Here, the hardy floors and walls contrast with an ethereal floating staircase leading up to the main level. The stairs' white oak treads and glass railing hint at the more refined palette that awaits above.
The main level opens wide on both long sides to the mountain views and aligns roughly with a ridgeline across the valley. The children's bedrooms and primary bedroom flank the rectangular box at either end, with the central core dedicated to an open kitchen, living, and dining space. Light matte finishes contrast with the dark cedar and glossy metal exterior.
There's direct access from the great room to a terrace and pool deck, essentially a continuation of the concrete plinth. In a nod to Mies van der Rohe's precast concrete pavers, the steps to the terrace are ample enough to sit on. "The house appears to float 6 inches above the landscape and the open treads reinforce that effect," says Mike. "Even though it's this dark, monolithic piece, it has a lightness to it."
---
Honor Award  
Custom Rural or Vacation House
Studio B Architecture + Interiors
Blur
Boulder, Colorado
Project Credits
Architect: Mike Piche, AIA, principal, Studio B Architecture + Interiors, Boulder, Colorado
Builder: Buildwell, Boulder
Interior Designer: Studio B Architecture + Interiors
Landscape Architect: JB Fieldworks, Boulder
Project Size: 4,931 square feet
Site Size: 42 acres
Construction Cost: Withheld
Photography: James Florio
---
Key Products
Cladding: reSawn Western Red Cedar
Cabinetry: Arclinea
Countertops: Porcelanosa Krion
Doors/Windows/Window Systems: Reynaers
Faucets/Showerheads: California Faucets, Artos
Flooring: White oak
Kitchen Appliances: Miele PureLine
Lighting Control: Lutron
Sinks: Duravit Stark
Toilets: TOTO
Tub: Albion
Washer/Dryer: Maytag
---
Images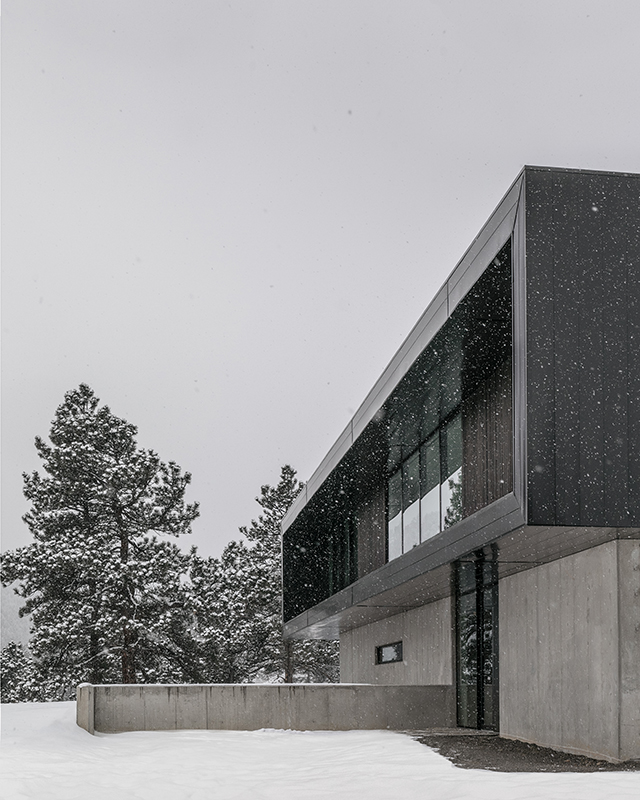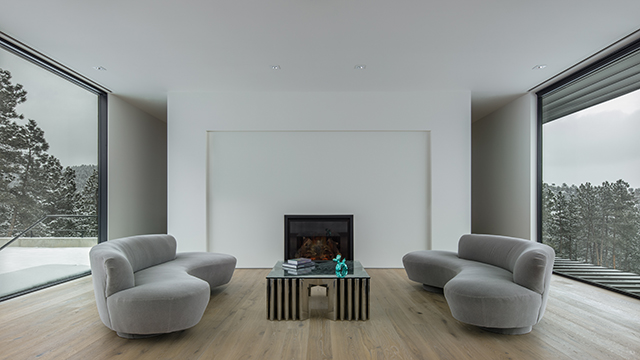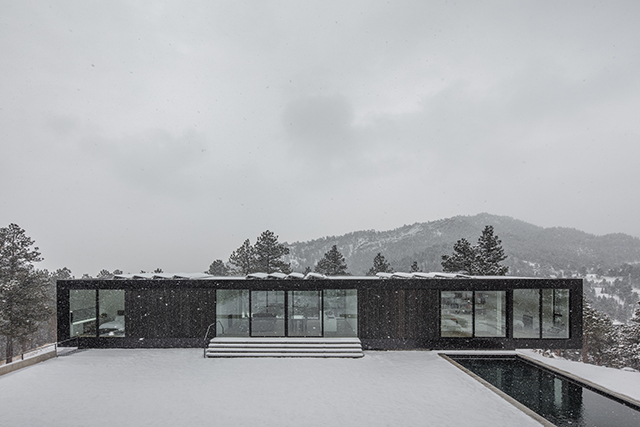 ---
Plans and Drawings