The previous vernacular building on this site had lived many lives—a steamboat ferry terminal, a laundromat, an apartment house, and a private home. But, after more than 100 years of periodic flooding, it was at the end of its life span for any kind of use. Zoned commercial, the stunning site was at risk of overdevelopment or some other infelicitous fate. Enter Elliott Architects' client, a savior who knew this building well and wanted to replace it with something better but not bigger.
"She had been coming to this area for years and knew this building well," says project architect J.T. Loomis. "She had even rented the house for a couple of seasons and it had a lot of sentimental value to her. She did not want to stray from the scale of the existing house, even though she could have filled 70 percent of the site. She wanted to keep it in line with the scale of the waterfront."
A sensitive client and a noteworthy site are especially inspiring to architects, and it shows in the result here. The main house and quilting studio that doubles as guest space (it replaced an old icehouse) are at once crisply modern and calmly contextual. They fit in neatly between neighbors—another seaside house and the town yacht club. Projecting a kind of chameleon demeanor, they could just as easily be commercial as residential—or even a charming school we would all like to attend. Said one judge: "It's clear what the vernacular starting point was, but they took it to a new level of interpretation. And they did it very well."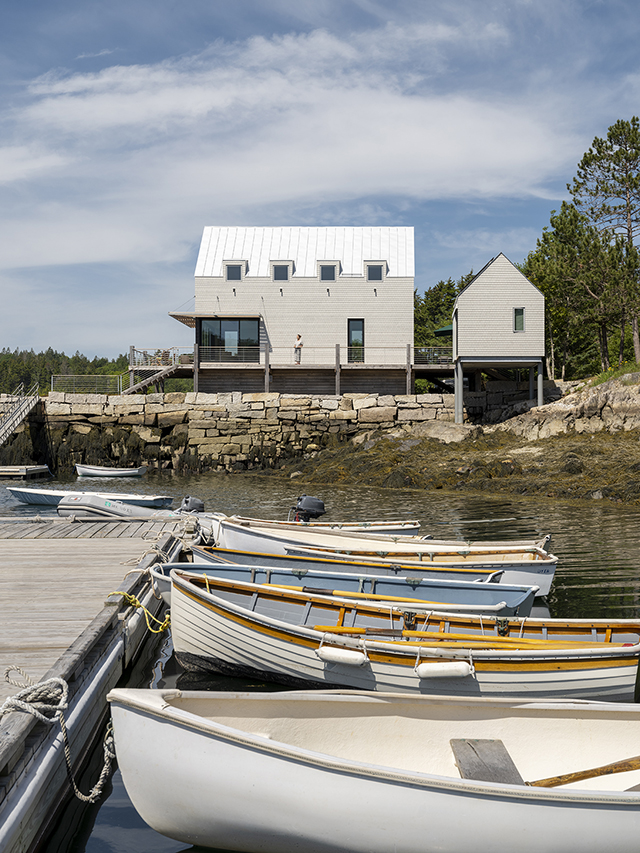 Elevated out of harm's way, the compact main house is extremely economical in its use of space. There's just enough square footage in the first-level great room, combined with a pair of window wall systems and a wraparound deck, to feel expansive. Upstairs are two bedrooms, tucked into dormers for extra head height and cross ventilation.
It's those dormer windows that underline the sophistication of the design and contribute substantially to its critical success. "This house really makes a case for dormers, which are hard to manage—especially in a metal roof," said another judge. "They take what's a very common building form these days and completely transform it."
"The dormers are purely geometric, with flat roofs and similarly proportioned openings. We chose very carefully where we broke the rules of symmetry," says J.T. Familiar building materials—locally quarried granite, cedar shingles, a coated metal roof, and white oak floors—tie the buildings to the past, while the meticulous detailing ushers them into the modern world.
"There's historical precedent for these wharf buildings suspended over the water. And, generally, the outbuildings for traditional farmhouses didn't have any ornament," J.T. explains. "They were very clean and pure. That was the historical feeling we were looking for—a very pure representation of home."
---
---
Honor Award
Elliott Architects
House on a Wharf
Coastal Maine
Project Credits
Architects: Matt Elliott, AIA, principal in charge; J.T. Loomis, project architect, Elliott Architects, Blue Hill, Maine
Builder: M.K. Construction, Charleston, Maine
Interior Designer: Lisa Morris by Design, Portland, Maine
Landscape Architect: Richardson & Associates, Saco, Maine
Lighting Designer: Peter Knuppel Lighting Design, Sullivan, Maine
Structural Engineer: Thornton Tomasetti, Portland, Maine
Project Size: 1,604 square feet (main house); 212 square feet (studio); 1,073 square feet (decks)
Site Size: 0.24 acre
Photography: Trent Bell Photography
---
Key Products
Cabinetry: Custom
Cladding: Maibec Nantucket Eastern White Cedar Shingles
Cooktop/Ovens/Refrigerator/Freezer: Fisher & Paykel
Counters/Surfacing: Freshwater Stone/Freshwater Pearl granite (kitchen); Boston Co. Marble Slab River (bathrooms); Jet Mist granite (fireplace surround); Dupont Corian (bath/shower trim)
Decking: Ipe
Engineered Lumber: Weyerhaeuser
Entry Doors: Arcadia patio doors
Lighting: BK Lighting (exterior); modernmaine (main house); Focal Point Lights (studio)
Lighting Control: Lutron
Faucets: Moen, Delta, American Standard
Fireplace: Regency City Series
Flooring: Solid white oak
Paints: Benjamin Moore
Passage Doors/Hardware: Select Door painted Shaker; Häfele Hawa Junior pocket door hardware; Accurate pulls and locks
Roofing: GALVALUME Plus standing seam metal roof
Sinks: Elkay (kitchen), American Standard, Rohl
Thermal/Moisture Barriers: Benjamin Obdyke HydroGap
Toilets: American Standard
Tub: BainUltra Opalia
Underlayment/Sheathing: Huber ZIP System Insulated R-Sheathing (exterior walls, roof); James Hardie HardiePanel cement panels (underside of studio)
Wallboard: Nickel-gap painted shiplap
Washer/Dryer: Whirlpool
Windows: Loewen awning, casement
Window Wall Systems: Arcadia curtain wall, multislide, sliding patio
---