It was, as is usual for rural homes, all about the land. The developer of this sprawling house asked Lake|Flato Architects for a design that leverages its unique Mojave Desert setting overlooking the Las Vegas Valley. "We had nice conversations about how to use natural materials and the local ecology to connect it to the land, rather than some traditional form of luxury you might find in Las Vegas," says project manager Ryan Yaden, AIA.
Two-foot-thick rammed earth walls—a blend of two local soils—organize the house's living, bedroom, and service wings. They move from inside to out, extending the interiors to discrete outdoor spaces while creating a thermal mass that buffers the desert's daily temperature swings.  "The walls frame very specific views so that the experience feels special; the views are not ubiquitous," says principal Andrew Herdeg, FAIA. They're also a foil for the glass, weathered steel, and concrete living and bedroom pavilions, with their floating roofs that balance interior daylighting. The main living area spans east to west to capture southern light, while the bedroom wing and service wing edit views from the living areas and street.
Equally important, the design celebrates the rare rainfall on this thirsty land. The living pavilion's big butterfly roof drains to an arroyo lined with palo verde trees, and a scupper waters a courtyard rain garden next to a window-seat bump-out.
"The configuration, materials, daylighting—everything about the experience of the home connects you to the surrounding environment and seamlessly blends with the rugged landscape," Andrew says.
---
Custom Rural or Vacation House  
Citation
LAKE|FLATO ARCHITECTS
HORIZON HOUSE
HENDERSON, NEVADA
Project Credits
ARCHITECT: Andrew Herdeg, FAIA, principal in charge; Ryan Yaden, AIA, project manager; Grace Boudewyns, AIA; Vicki Yuan, AIA; Megan Toma; Matthew Hlavinka, Pavan Iyer, project team, Lake|Flato Architects, San Antonio, Texas
BUILDER: Scott Bugbee, R.W. Bugbee & Associates, Las Vegas
LANDSCAPE ARCHITECT: Roger Socha, TRUEFORM Landscape Architecture Studio, Phoenix
STRUCTURAL ENGINEER: Kirsten Nalley, Mendenhall|Smith Structural Engineers, Las Vegas, Nevada
MEP ENGINEER: Conrad Brown, PAE Engineers, Portland, Oregon
CIVIL ENGINEER: Kendard Mize, P.E., Lochsa Engineering, Las Vegas, Nevada
PROJECT SIZE: 7,850 square feet
SITE SIZE: 1.9 acres
CONSTRUCTION COST: Withheld
PHOTOGRAPHY: Casey Dunn
---
Key Products
CABINETRY: Custom
CABINETRY HARDWARE: FSB
COUNTERTOPS: Caesarstone
DISHWASHER: Fisher & Paykel
ENTRY DOORS: Custom walnut
FLOORING: Concrete, walnut, wool carpet
GARAGE DOORS: Overhead Door Co.
HVAC: Multi-zone high efficiency split system with fresh air heat exchanger
OVENS: Wolf
REFRIGERATOR/FREEZER: Sub-Zero
ROOFING: TPO
STRUCTURAL: Rammed Earth—local aggregate mixed with limited Portland cement using vernacular method of mass wall construction
WINDOWS: Loewen
---
Images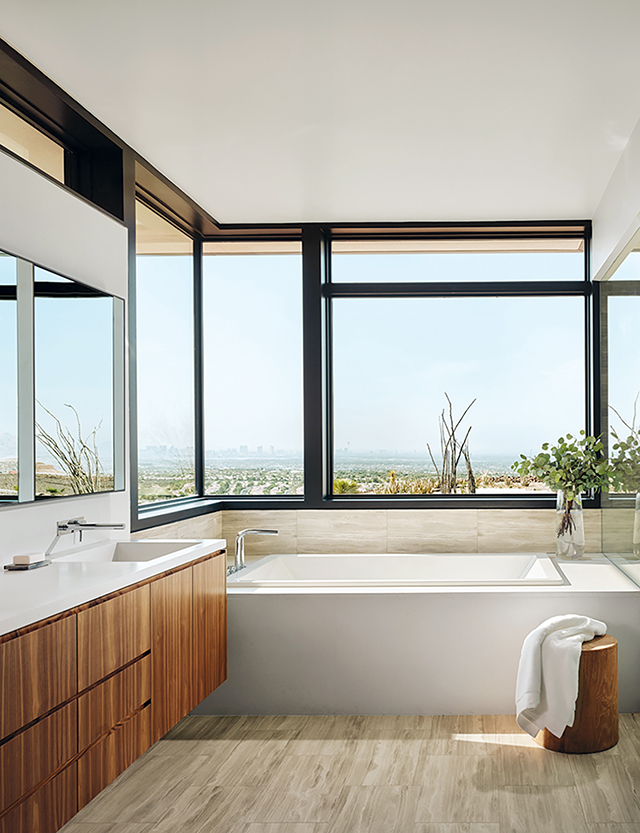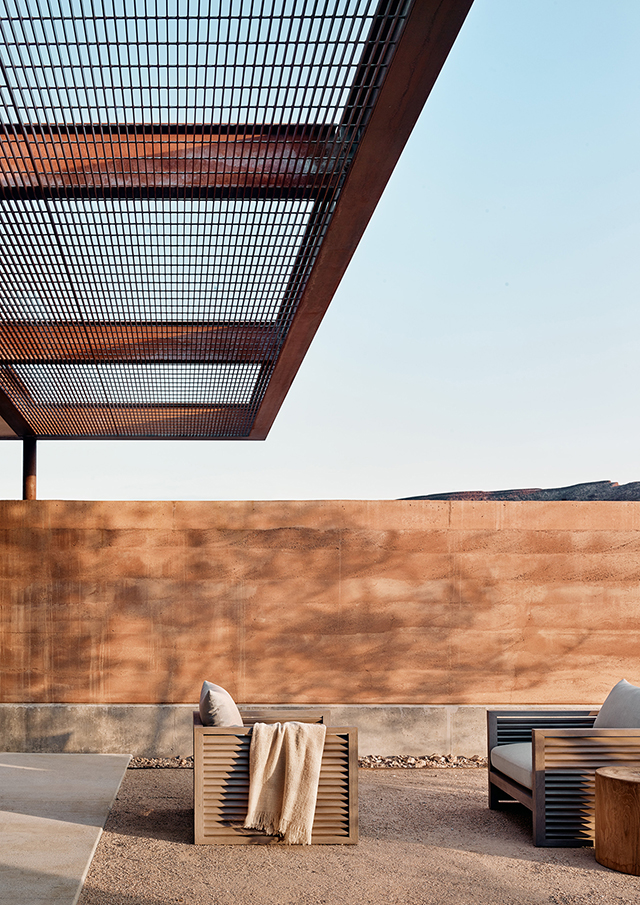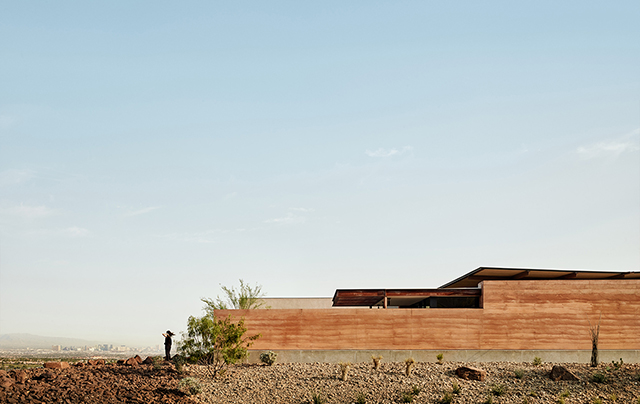 ---
Plans and Drawings